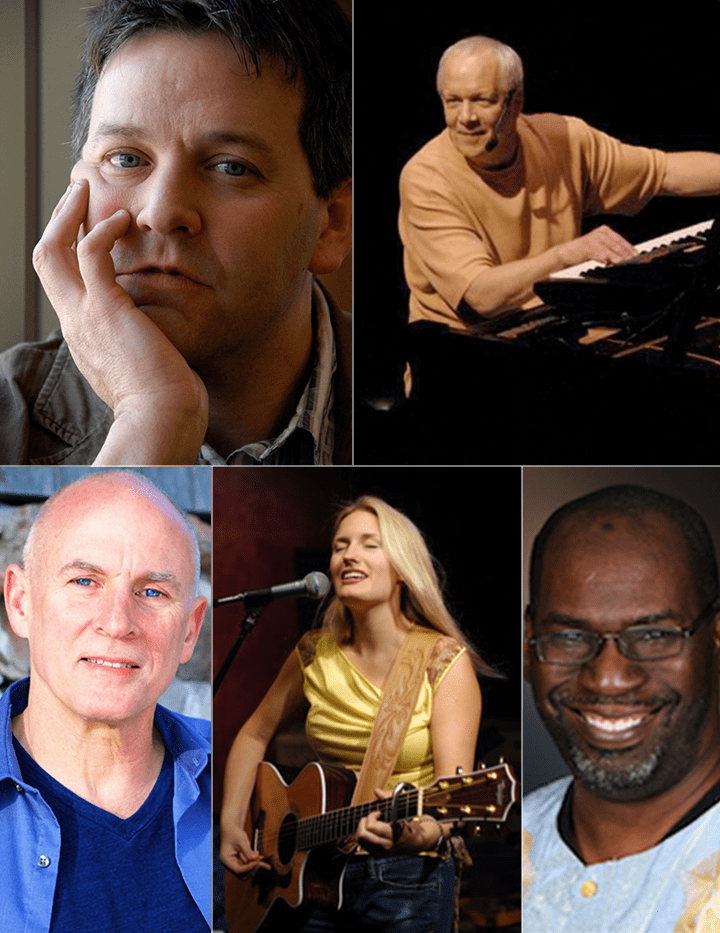 CMP and Interlude (Ken Medema) Present…
Our Songcrafting Retreat in November, 2017 was such as success that we are already planning on doing it again in 2018!!
The basic format and vibe will be the same, but we'll have a few new leaders present who we'll make known as soon as we lock them in. We're hoping to have the amazing Mark Miller join us this year for example...
So here's the information at this point for the retreat we're going to call,
"Write Now!: A Progressive Christian Songcrafting Retreat"
A Progressive Christian Songcrafting Retreat
At Woodmont Chritian Church, Nashville, TN
Price: $249.00 (does not include lodging or meals)
Early Bird Registration: $219.00 Deadline August 1, 2018
Note: Early Adopter and Annual Subscription members receive a 25% discount. Contact Bryan Sirchio bryan@convergencemp.com for the discount code.
This conference is for all songwriters who feel called to create new music for worship and community singing that reflects a more just and generous expression of the Christian faith. If you long to write new songs that will help congregations embrace biblically based themes such as social justice, extravagant welcome, radical inclusion, a commitment to honoring the earth and it's ecosystems, and the unconditional Love at the heart of the Gospel, this conference is for you!
Whether you are just beginning to learn how to create songs or are an experienced, established, and published composer, you will love this retreat. We will limit the registration to under 50 persons, enter into open-hearted community, share best practices, work on music collaboratively, and spend time writing and reflecting and encouraging the full development of each other's gifts. One of our goals is to actually create some music during this retreat that will be featured prominently on the CMP website and used widely in churches and faith-based communities searching for great new songs to help them worship with passion and sing God's dream for the world into being.
The retreat will be led by Interlude Director and well known songwriter Ken Medema, CMP leaders Bryan Sirchio, Andra Moran, and Richard Bruxvoort Colligan, Eden Theological Seminary professor and songwriter Christopher Grundy, and Bryan Johnson, the Director of music at Trinity United Church of Christ in Chicago.
And of course we'll be in Music City! So we'll be sure to leave time to go out and experience some great Nashville nightlife.
Contact CMP director Bryan Sirchio for more information. bryan@convergencemp.com (608-577-8716)
Note: Select here for the 2017 schedule and overview of the flow and content of the retreat. The 2018 retreat will be similar.
here are answers to a few questions you may have:
1. The event will take place at Woodmont Christian Church 3601 Hillsboro Pike, Nashville, TN 37215
2. Registration is from 4-6 p.m. on Thursday, Nov. 15. The program will begin at 6:30 p.m. We will end by noon on Saturday, Nov. 17.
3. Registration fee does not include lodging or meals. We will provide coffee and breakfast bars, etc. There are places to eat within walking distance from the church and there are a wide range of prices, etc. We will send participants a list of potential places to eat prior to the event.
4. Regarding lodging, we've found that Airbnb is the best bet for affordable lodging. If you are coming and would like to explore sharing lodging with others please be in touch with us. If finances are very tight please let us know and we will do our best to help you out. Some possible home stays with church members may be possible.
5. CMP Early Adopter and Annual Subscription Members receive a 25% dicount on registration. Contact us for the code.
6. Registrations will be refundable up until Nov. 1st. We are cutting off registrations at 50 participants so register now if you are on the fence!
Thanks and we hope you'll join us!